Culpeper County, Virginia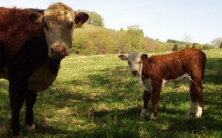 Hereford Cows (and Bulls) with Exceptional Performance on Grass

Underwood Farms operates a herd of registered Herefords and a herd of Hereford/Angus crosses. 

At this time, we do not have any cows for sale.  We refer you to the
Virginia Hereford Association
for contact information for Hereford breeders in the state of Virginia.
We will be maintaining a farm and cattle herd in Viriginia, although we are selling much of our Virginia holdings as we initiate our operations in Texas.

We have ten 2014 Spring hefiers for sale that were weaned in late October.  The heifers calved in February-April 2014 and average 550 lbs as of November 15.  Five of the heifers and purebred Hereford and can be registered and five are Hereford/Angus cross.  They are for sale for $1,250 each.  Please e-mail
tom@underwoodfarms.com
if you are interested. 
Special:  White Rock Farm Herd Dispersal

Young Registered Hereford Cows Bred for Spring 2010 Calving to Angus Bull

$1,000 each (5% Discount for 10 or more)

Underwood Farms has Maintained a Registered Hereford Herd at White Rock Farm in Etlan, Virginia, since 2003.  The herd consists of 27 registered Hereford dams that are bred to calve to a registered Angus bull in February-April of 2010.  Most calves will be born around March 1, 2010.  The cows all have above-breed-average EPD's, and they consist of Underwood Farms' retained heifers from the 2005 and 2007 calving seasons.  The 2007 cows are all calves of our Felton's Domino son,
KCF Bennett 774 L153
.  Ben was one of our top bulls for years, producing more than 100 registered calves and consistently producing marbling results near the top of the Hereford breed.